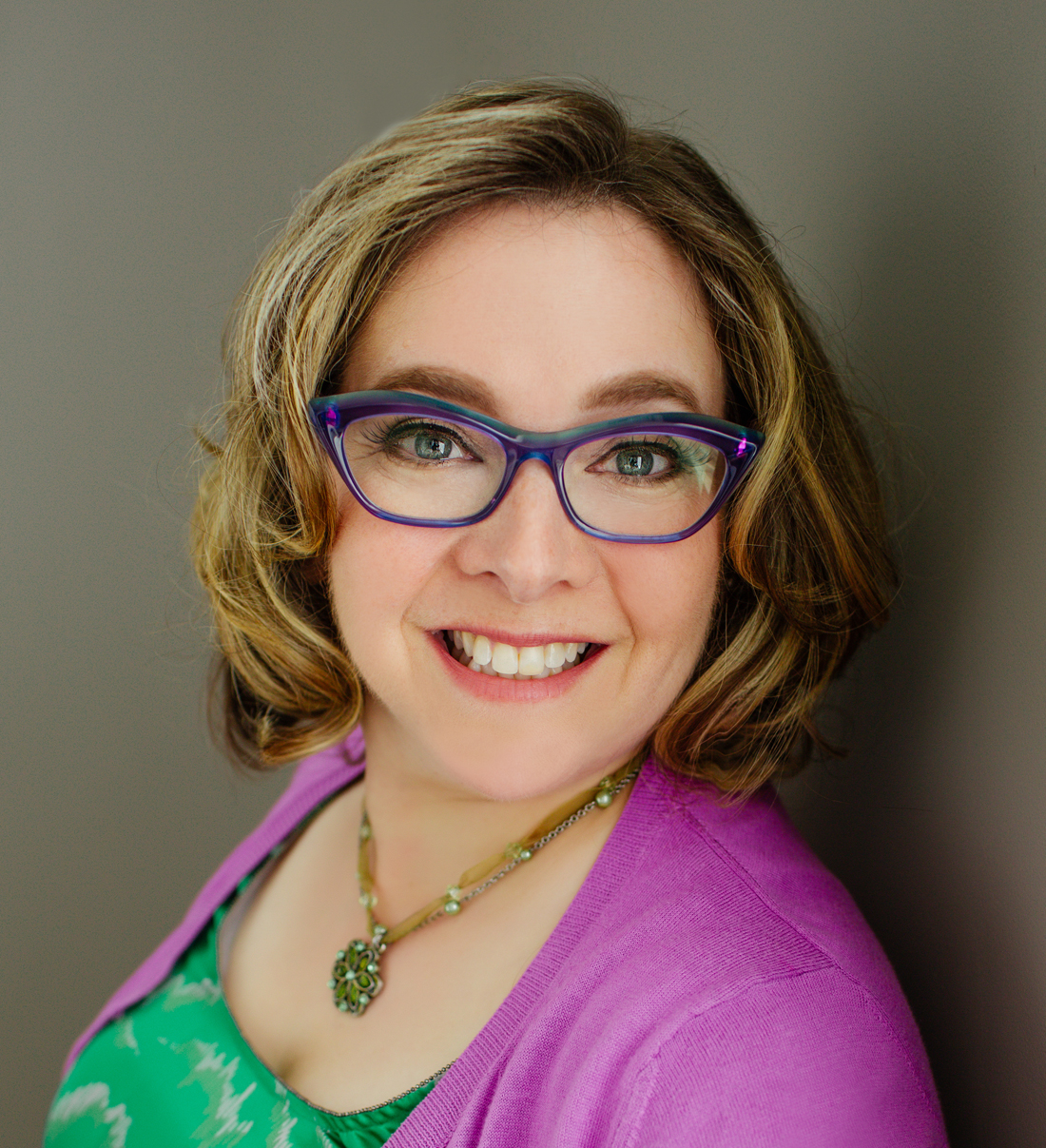 Nina Barnett
Product Designer
Easing anxiety & feeling supported
Helping students gain clarity with an interactive app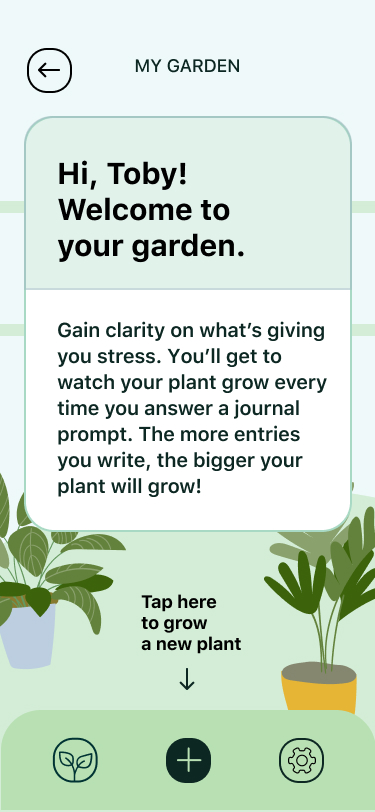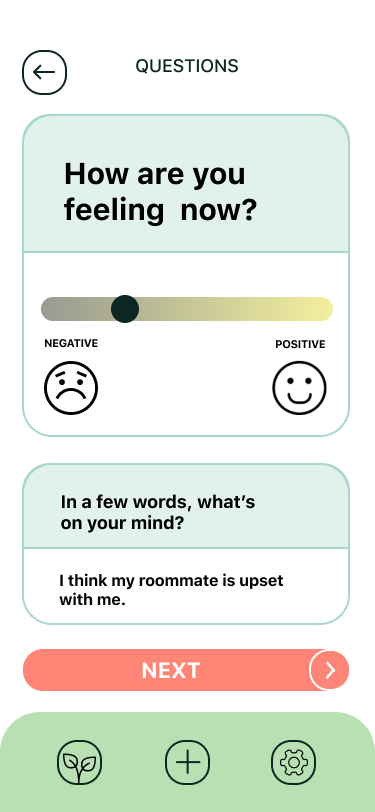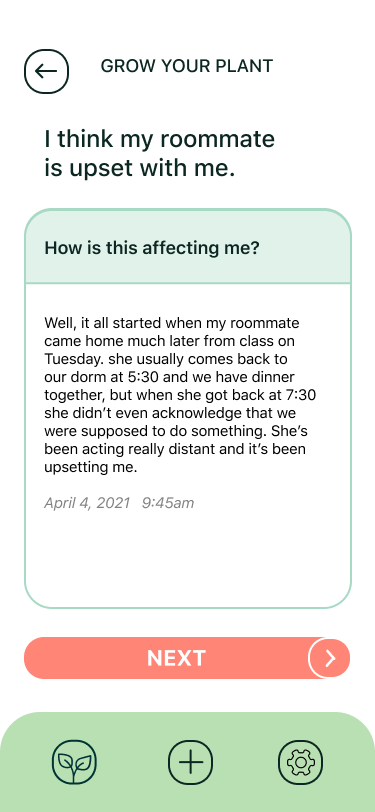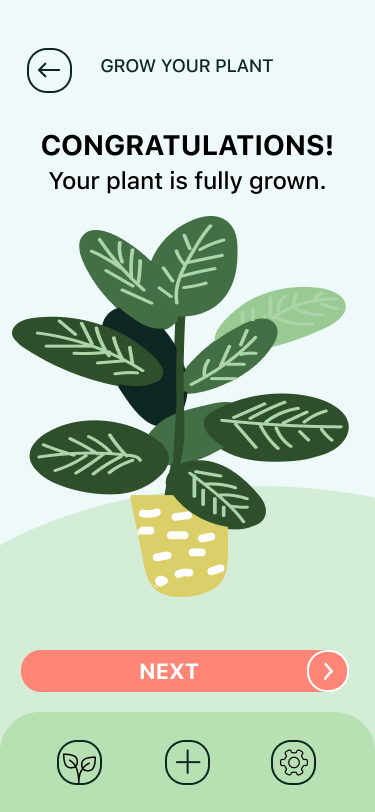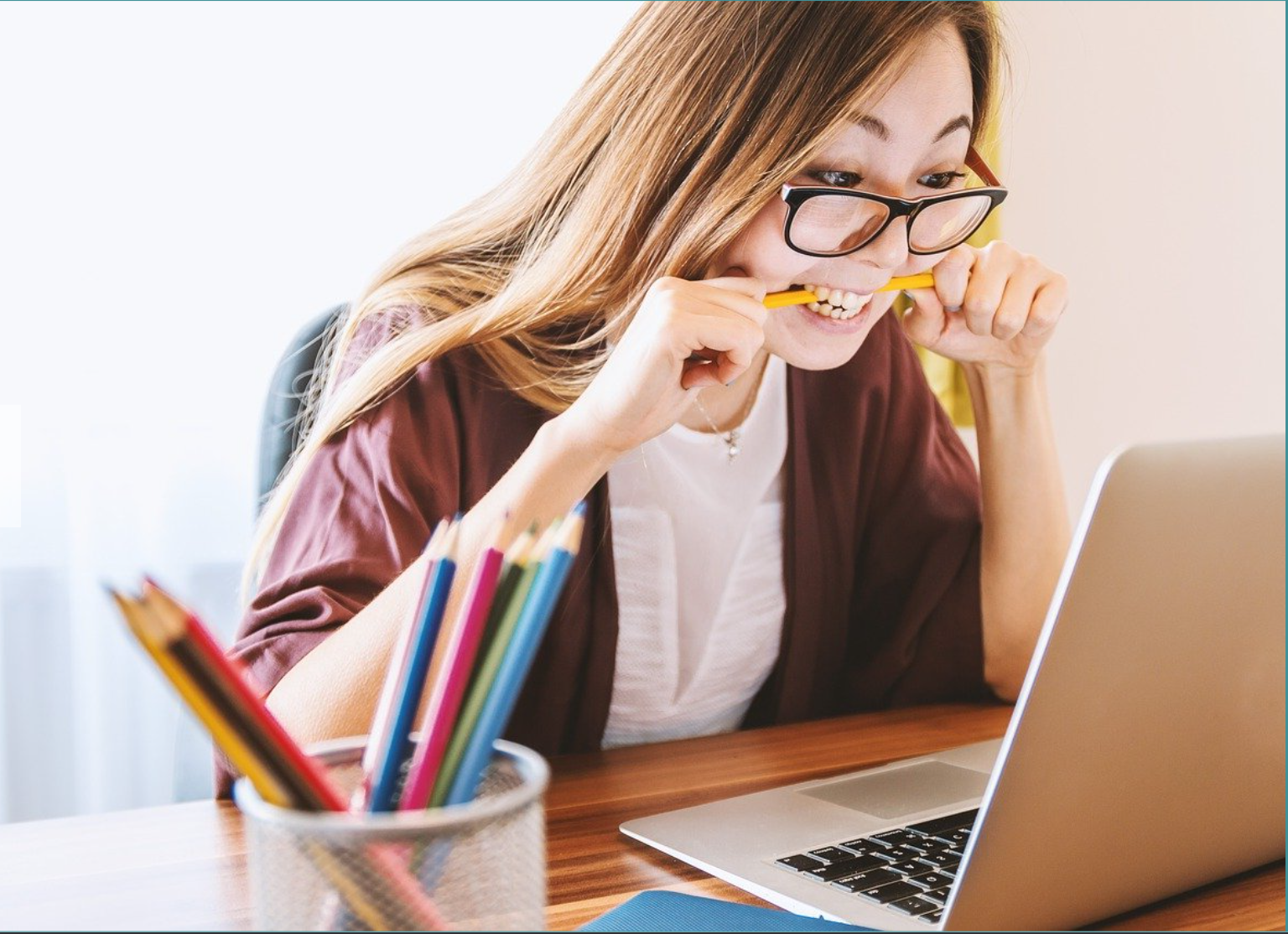 Overview
In this interactive journal, a student will go through the process of answering self-reflective questions, in order to gain clarity on what's causing them stress.

For each problem they write about, they'll get to choose a plant and watch it grow.

Afterwards, the plant will then be added to their garden.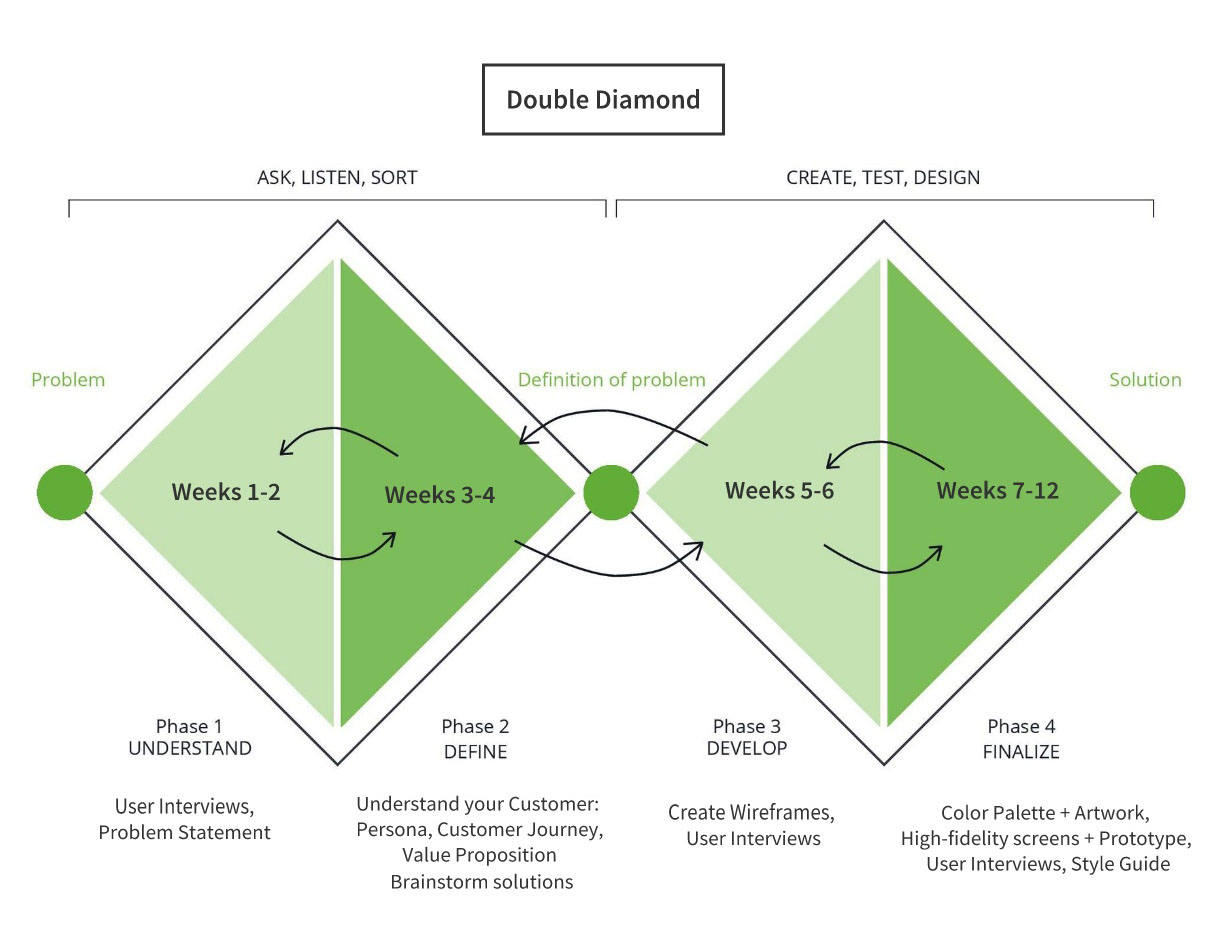 Process + Timeline
MVP
We app to help students manage their stress
Audience
Students ages 14 - 22
My Role
Lead Product Designer
Team
One Product Manager and two Developers
Timeframe
12 weeks to define problem statement and build MVP
Tools
Figma, Miro, Zoom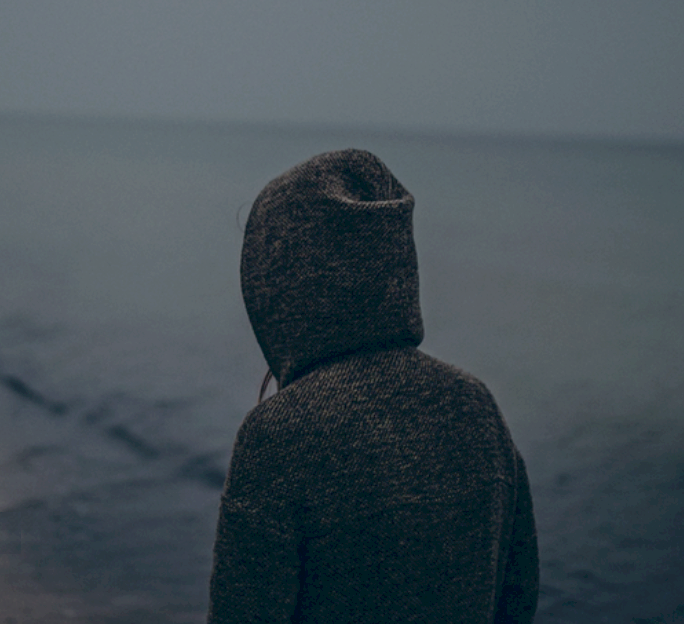 Problem Statement
Students who don't think their problems are bad enough to go to a therapist lack sufficient alternatives to ease anxiety.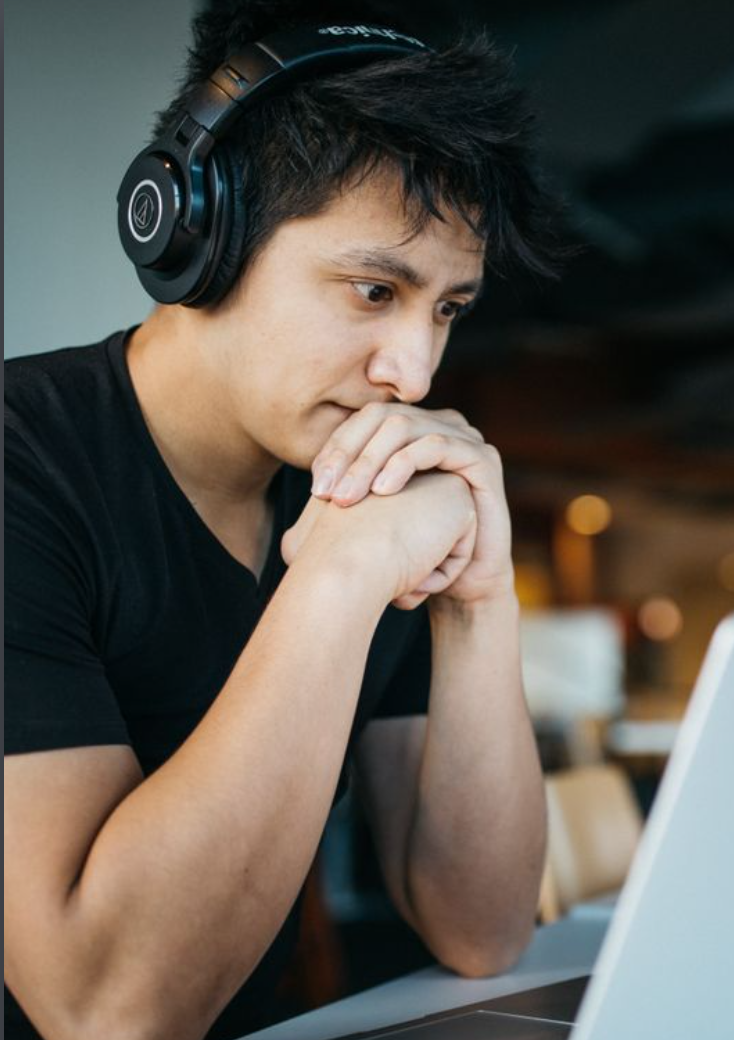 Research

INTERVIEWS & SURVEYS
At the discovery phase of this project, I conducted user interviews and sent out 2 surveys in order to get a better understanding of the problems that are on students' minds.
Interview with 16 participants / Interview with 5 students

Students ages 14-22, Teachers of pre-school and grades K-12, and parents

Survey with 59 responses / Survey with 34 responses from students

QUESTIONS
What causes you worry?

What were some stressful moments you had to go through?

When faced with stressful or worrisome situations, what do you currently do to cope?

If you don't do anything or talk to anyone about it, why not?
INSIGHTS
Relax, Distract, Sports, Ignore, Draw, Journal, Cry

Being productive or taking a step back

Talking to friends/family to seek empathy/guidance

14 students talked to someone, 16 students didn't talk to anyone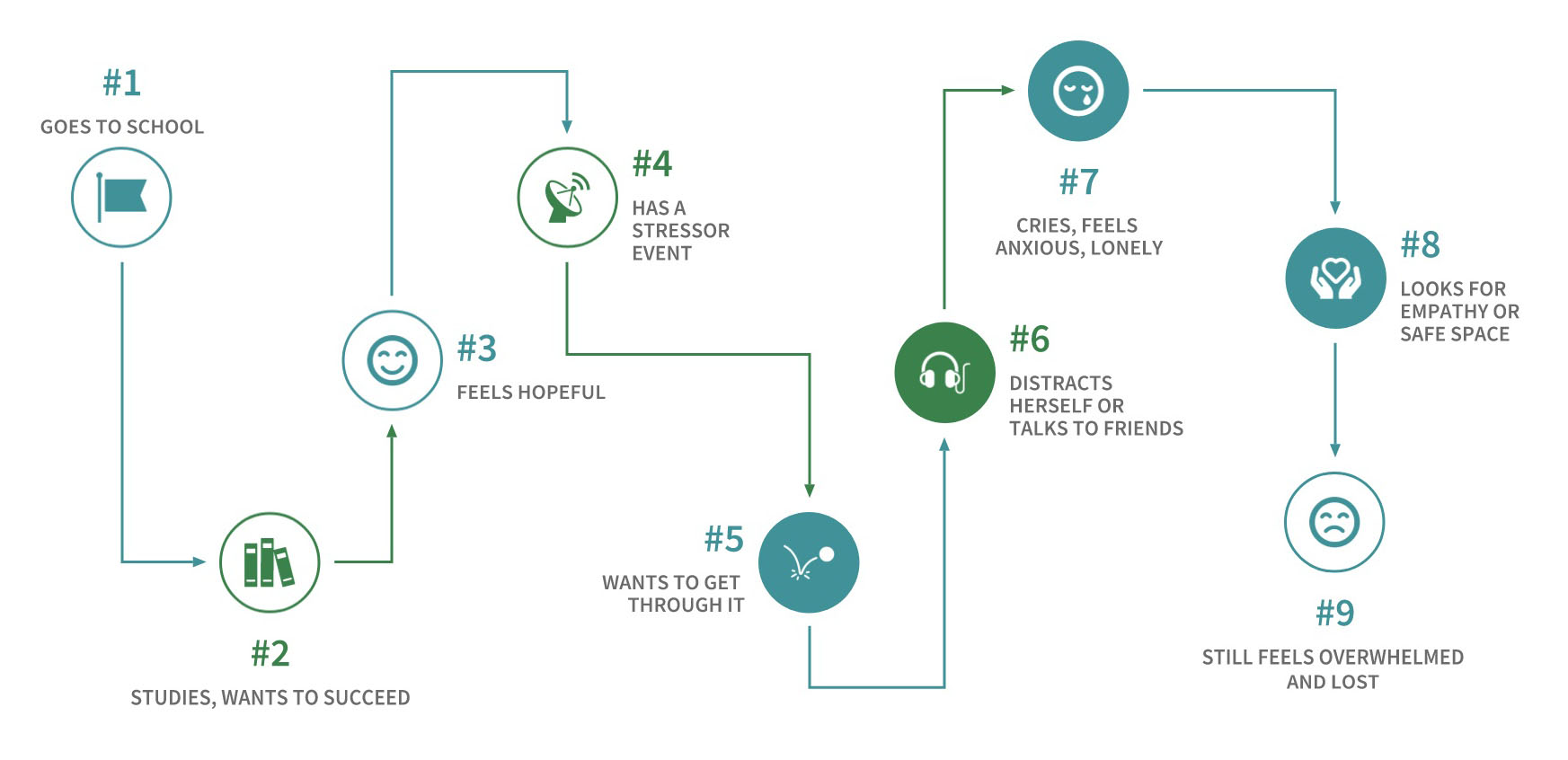 Customer Journey
In the first step, the student goes to school

She studies, and wants to succeed

She feels hopeful

She has a stressor event

She wants to get through it

So she distracts herself, or talks to friends, but

She cries, feels anxious and lonely. These solutions don't really help.

She looks for empathy and a safe space,

but Still feels overwhelmed and lost.

And, the cycle repeats again when there's another stressor event.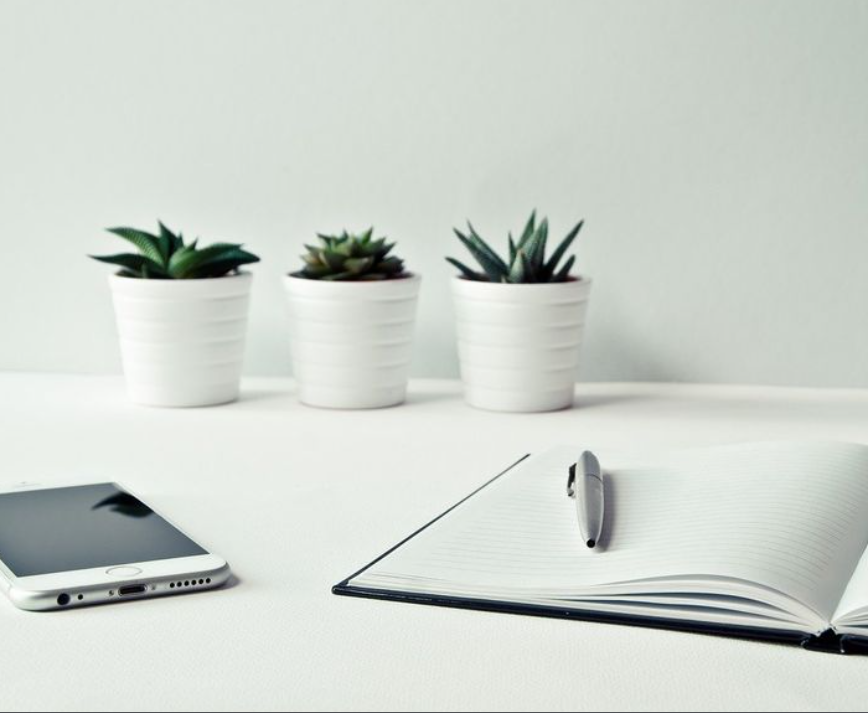 Interactive, engaging mental wellness app.
Self-guided journaling where you're rewarded for confronting your feelings and making a plan.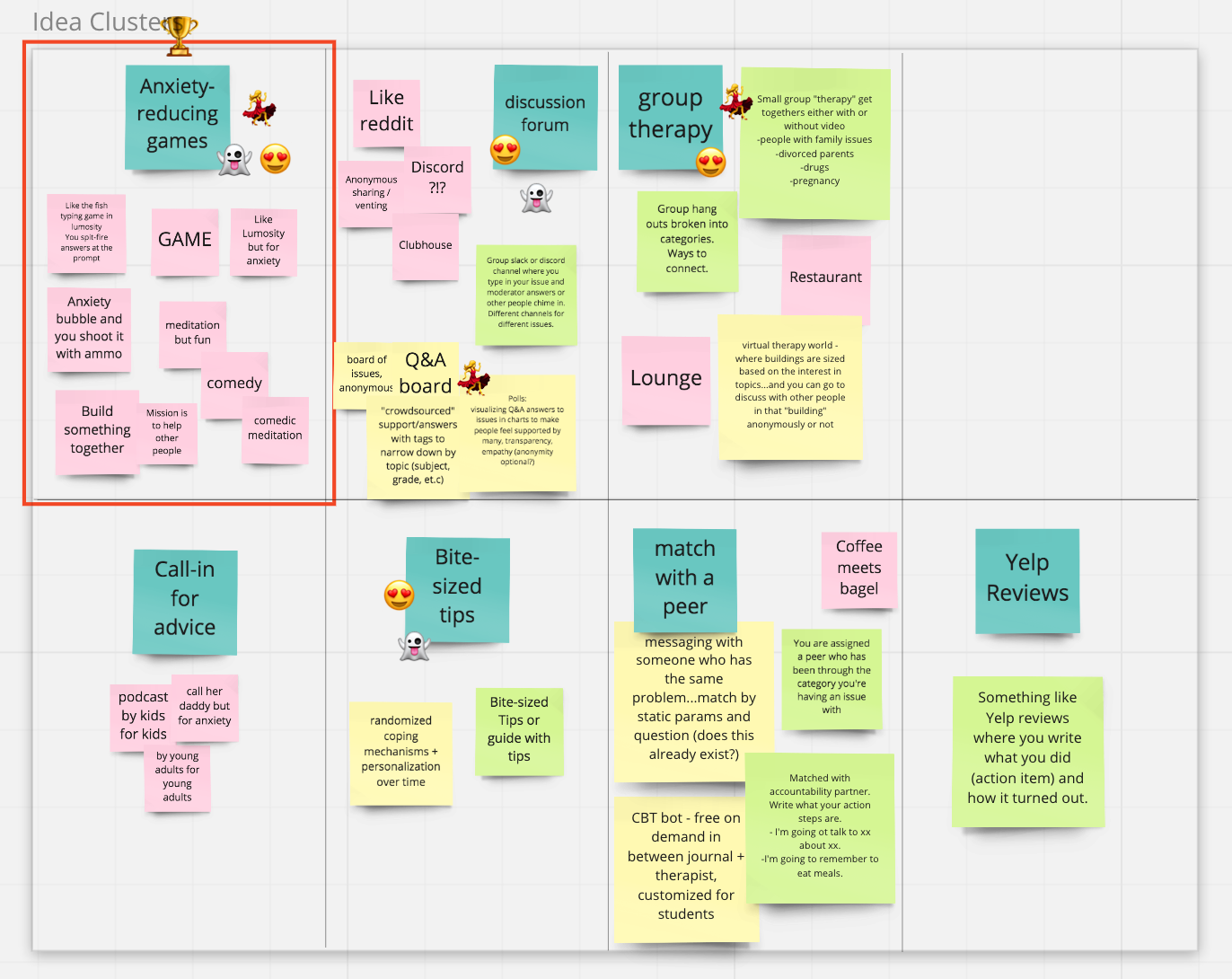 Idea Clusters
After doing Crazy-8's to brainstorm ideas, we grouped similar solutions together and voted on our top choices.

WINNER: Why we chose this idea
• Consistently reliable
• Private
• Easy and Fun
• Productive

MVP Features
For our Minimum Viable Product, we're going to have the core functionality of creating a plant, while going through the process of answering self-reflective questions. The plant will then be added into the user's garden.

Prioritized Features
• Self-guided journaling process
• Plant growth after each answer
• Seeing current and previous plants in the garden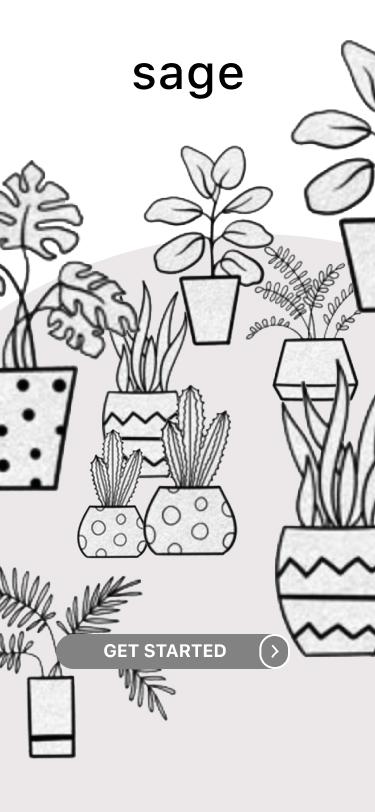 Wireframes
At the beginning of my design process I created wireframes for testing purposes.
It was useful to see our ideas in a visual format for the first time

Mid-fidelity in Figma

These were used for testing

There was another round of wireframes which incorporated the feedback from the testing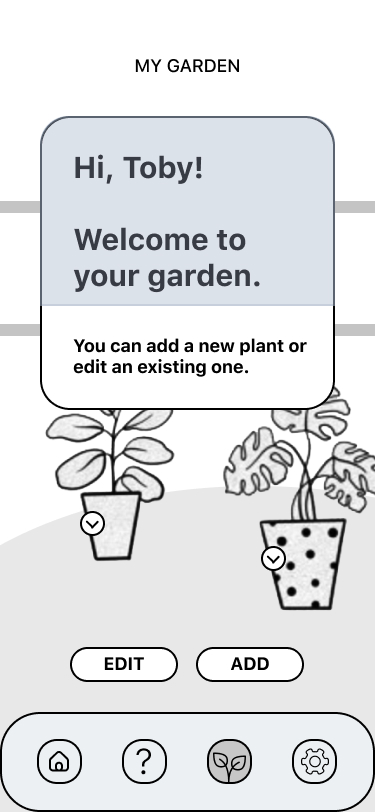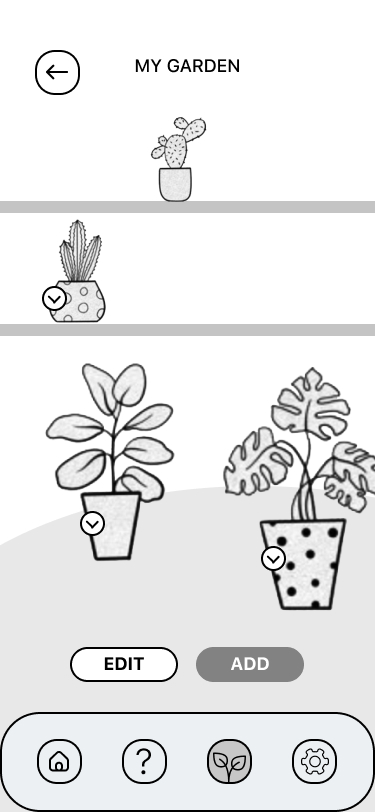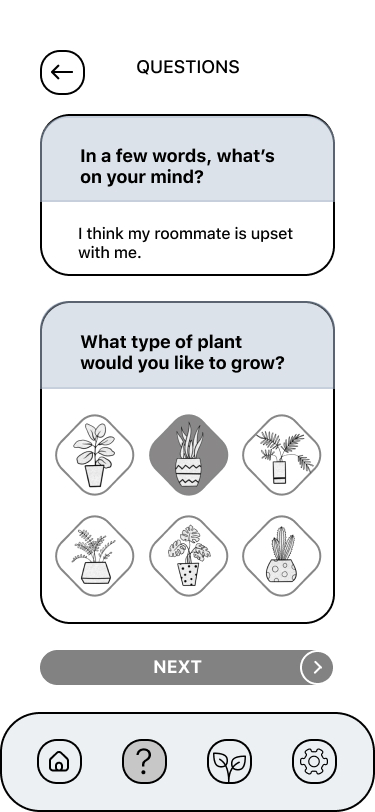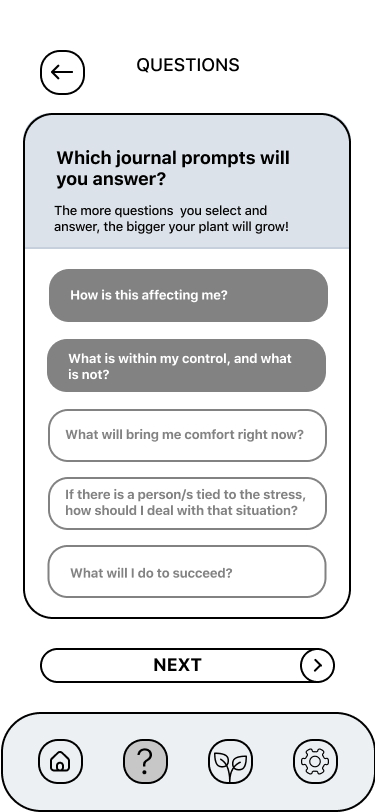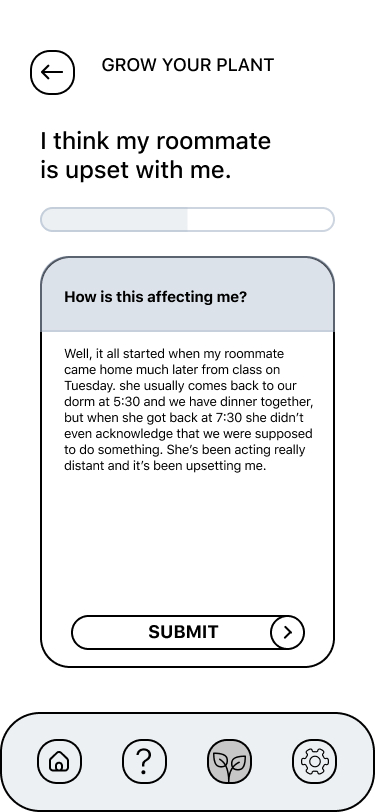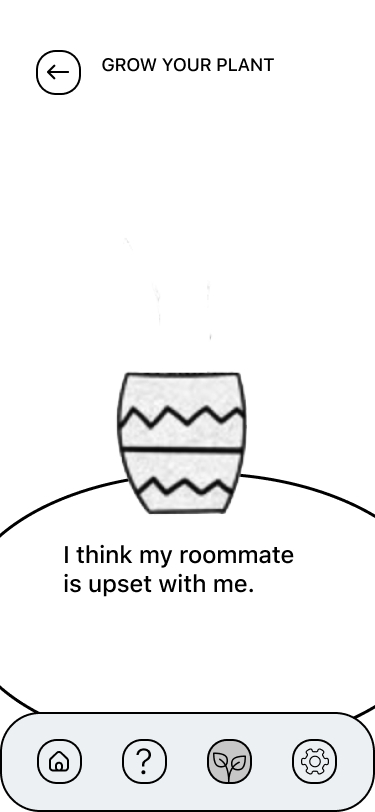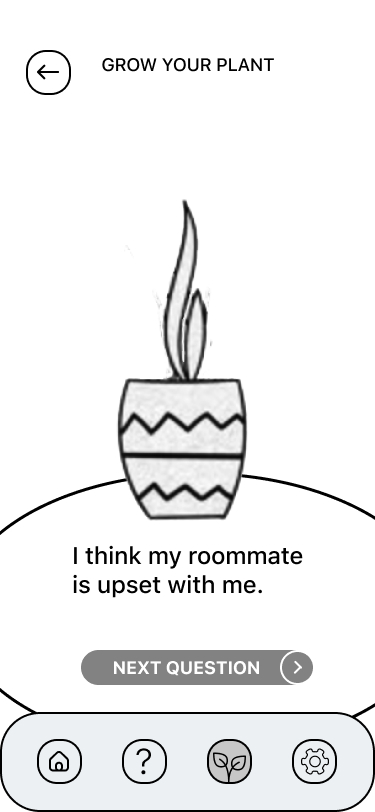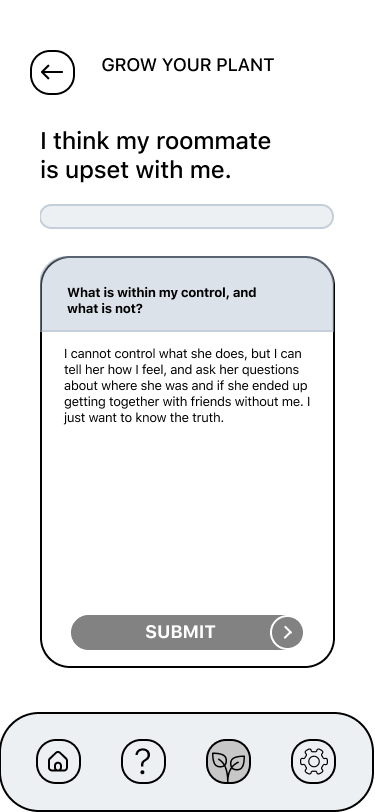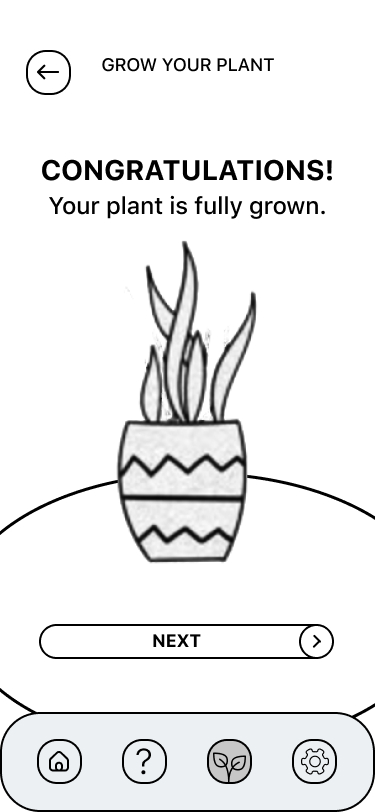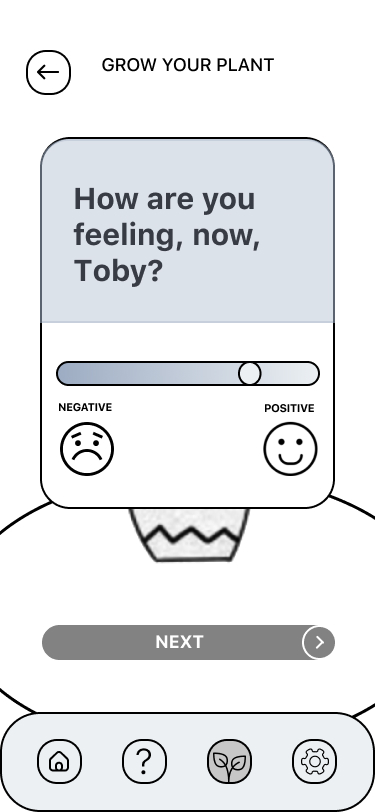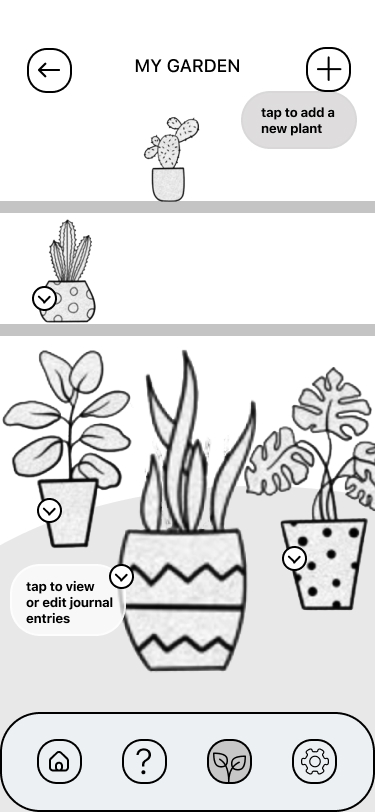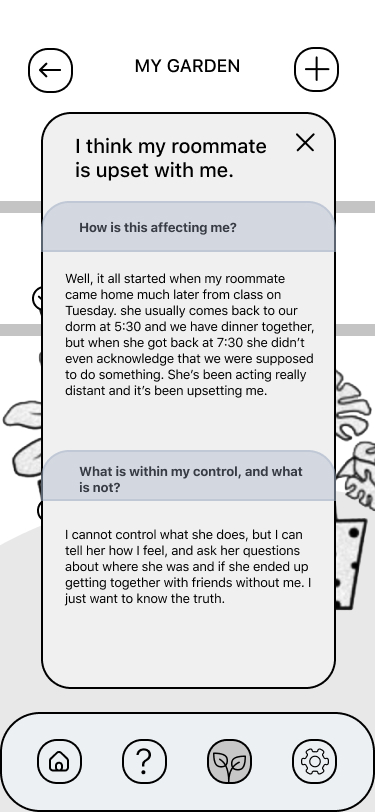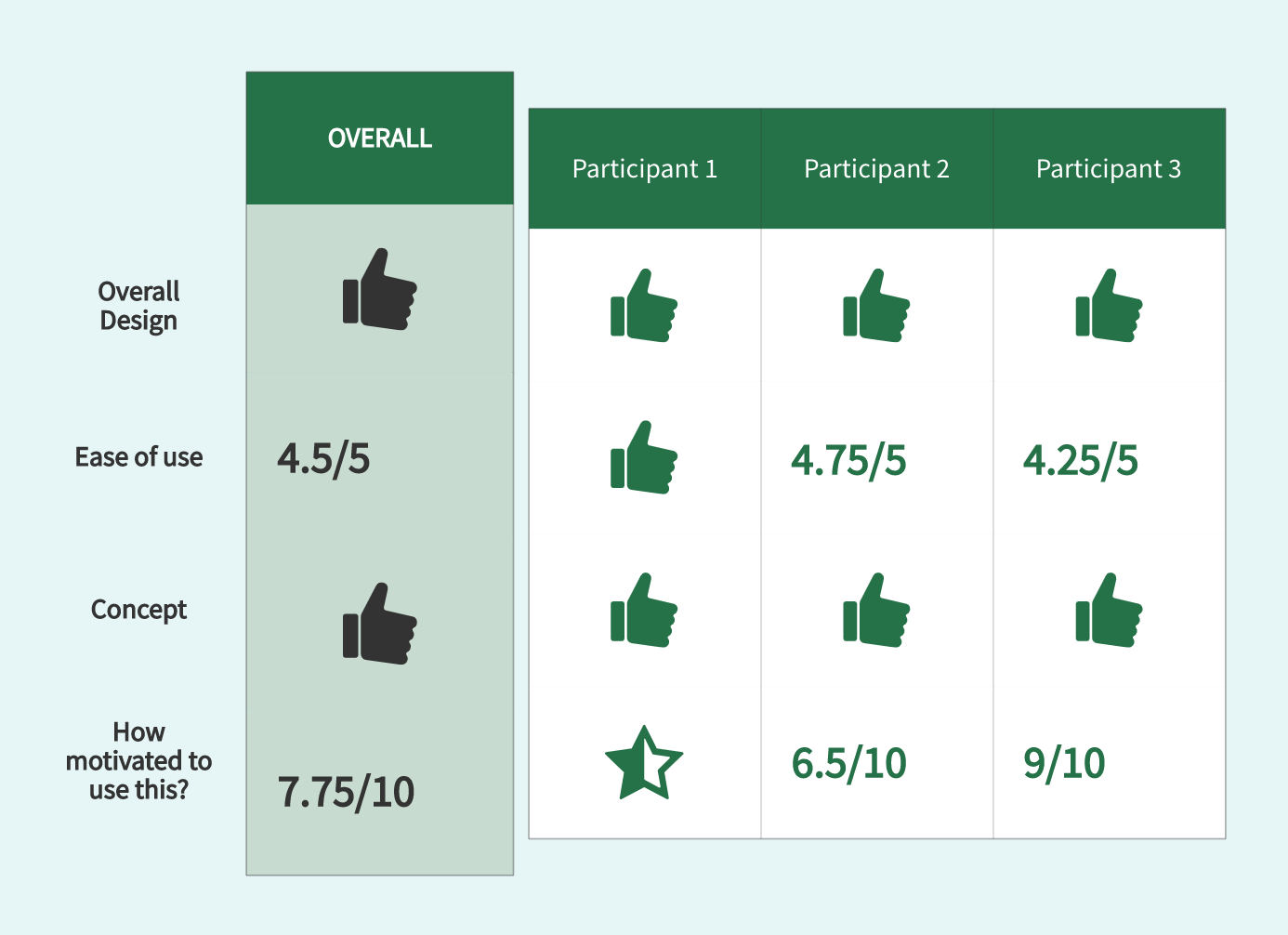 Usability Testing for
Concept Validation
OBJECTIVES
Were the wireframes easy to understand?

What are your overall thoughts on how this looks and works? What are your favorite and least favorite aspects?

On a scale of 1-10, how motivated would you be to use this app in times of worry or stress? How useful is it?

Which elements best represent our goals for this product? Concept validated?

METHODOLOGY
Students ages 14 - 22 (2 male and 1 female) over Zoom.

Participants were asked to complete a series of tasks and answer questions, including rating the difficulty and reason, pass or fail task.
INSIGHTS
Overall design was favorable and concept was validated

Overall ease of use was a 4.5 out of 5

Overall the users gave a 7.75 out of 10 for how motivated they are to use the app

We continued developing the app based on the positive feedback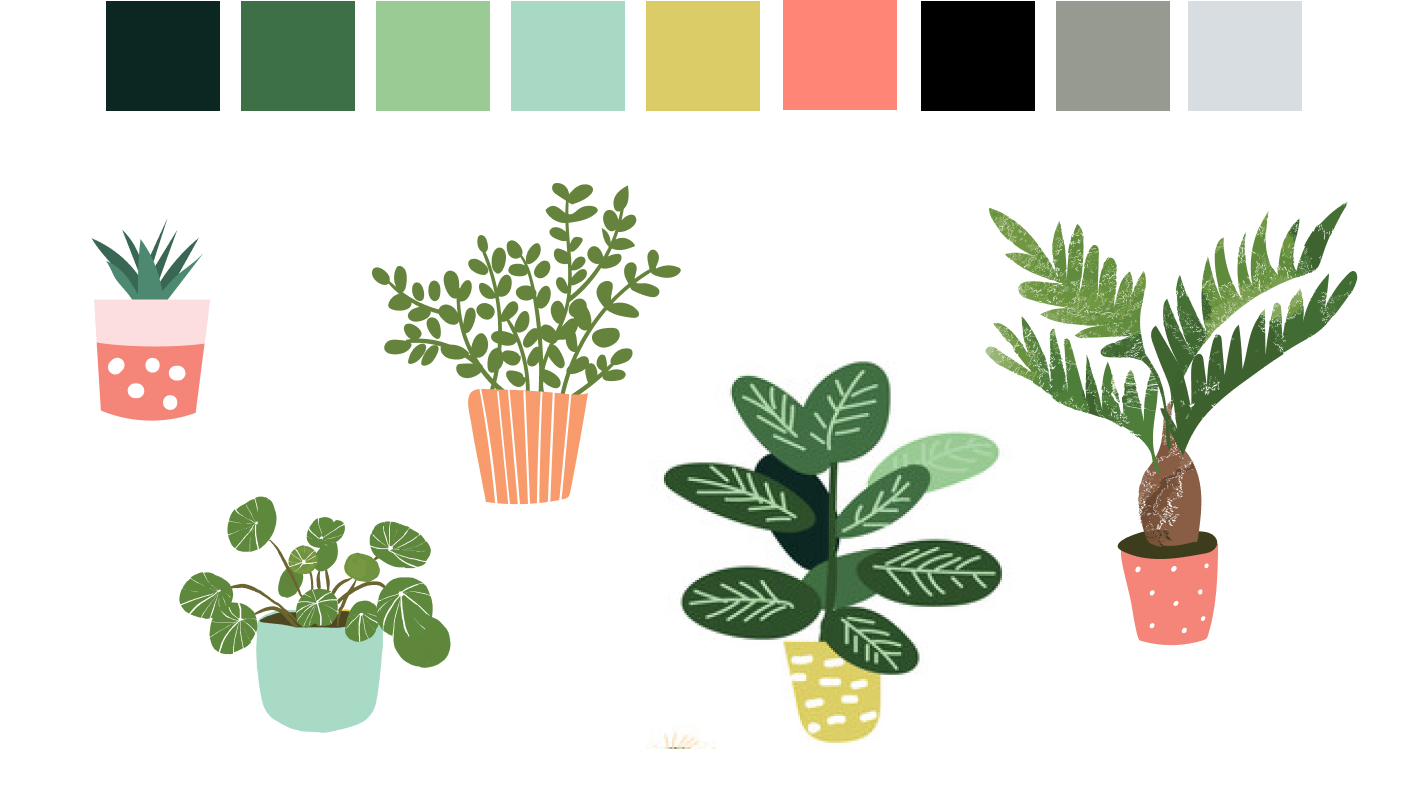 Colors + Artwork
I searched for illustrations that were light-hearted and playful, with a positive feeling, and a modern, relaxed vibe. I was inspired by the users to choose this style, since they are young, and have their whole lives ahead of them.

They would be coming to this app to relieve stress, and I wanted the colors and artwork to uplift their mood, and calm them at the same time. I'd like them to leave this experience with a sense of hope.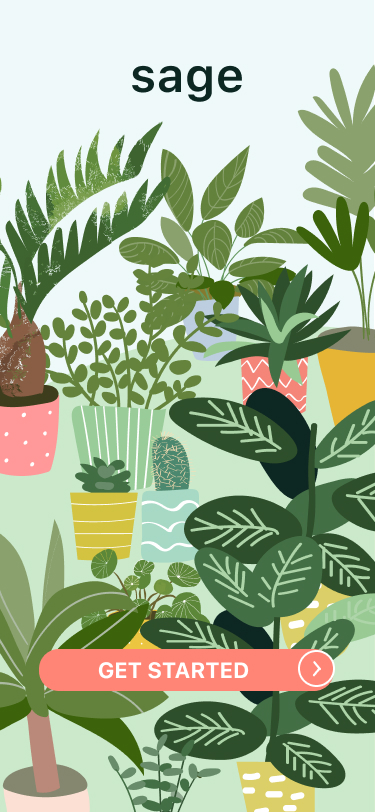 UI Design
Once I tested out for usability issues, I started designing the final screens in Figma.
I referred to Material Design for button and type sizing

I designed for iOS

Choosing the plants and using the illustrations to create artwork are some of my favorite elements

The final design reflect that the users want a design that is simple to use, uplifting, and calming at the same time

The design helps to achieve our goals, by allowing the student to type in what's bothering them, and to choose questions to answer, allowing them to explore what's on their mind in regard to a particular stressor. Since each question can be answered at different times, the overall experience can be bite-sized, and not take a long amount of time. It's a quick, fun, private and customizable way to gain clarity and reduce stress.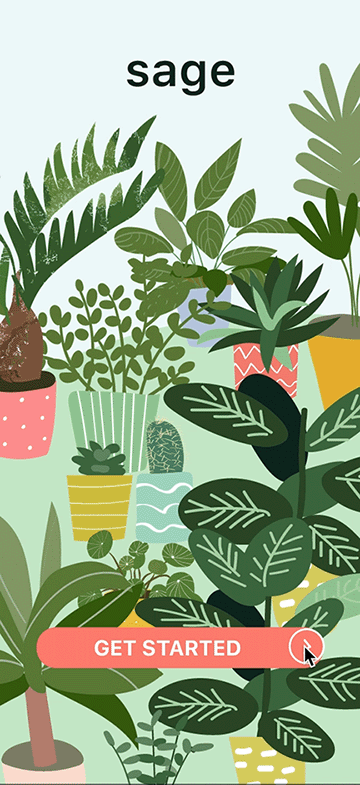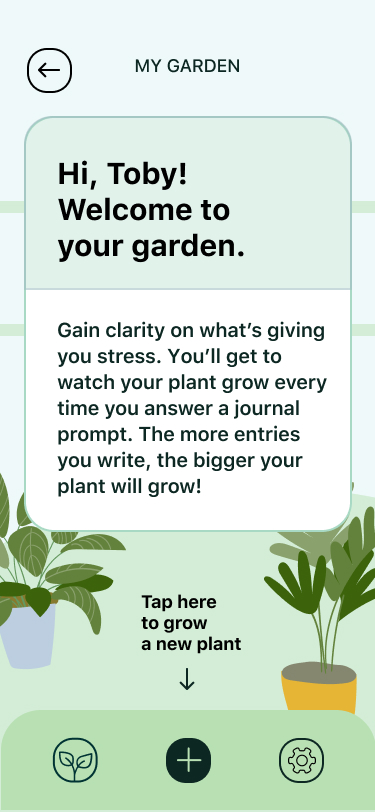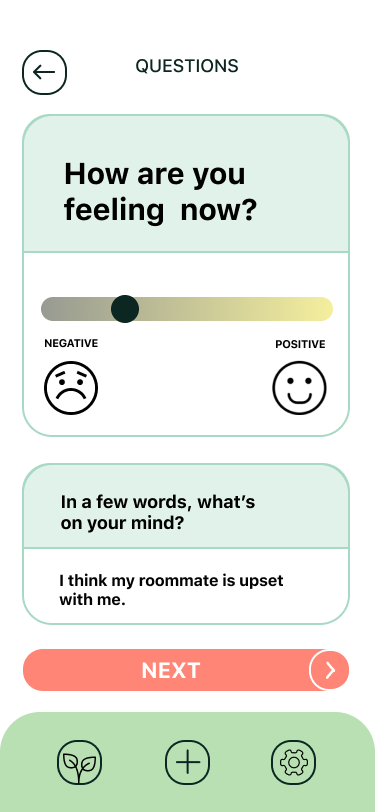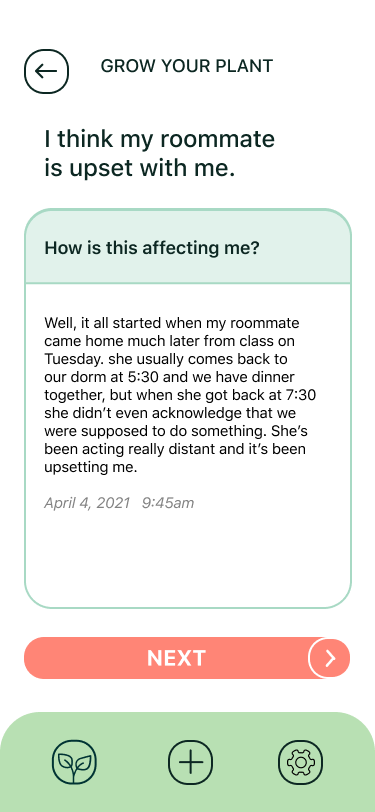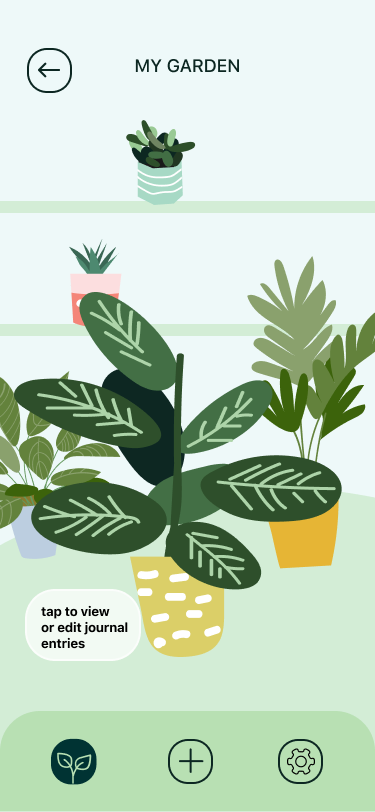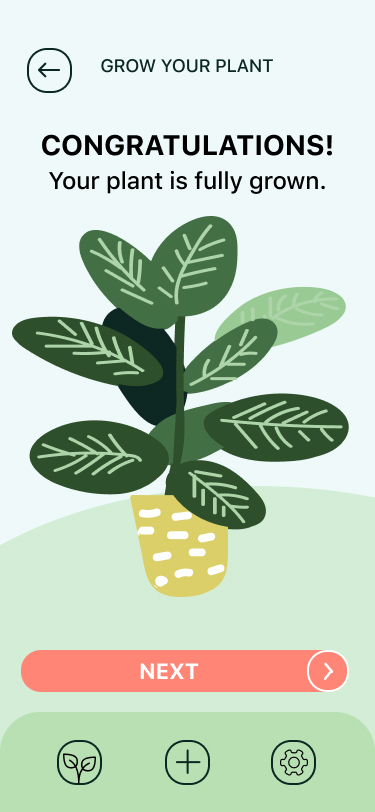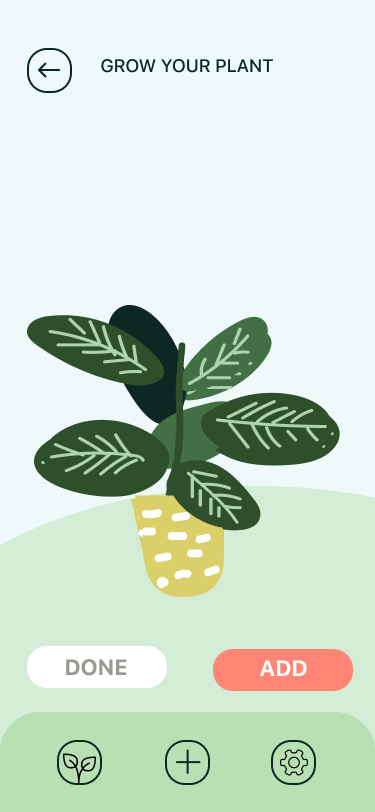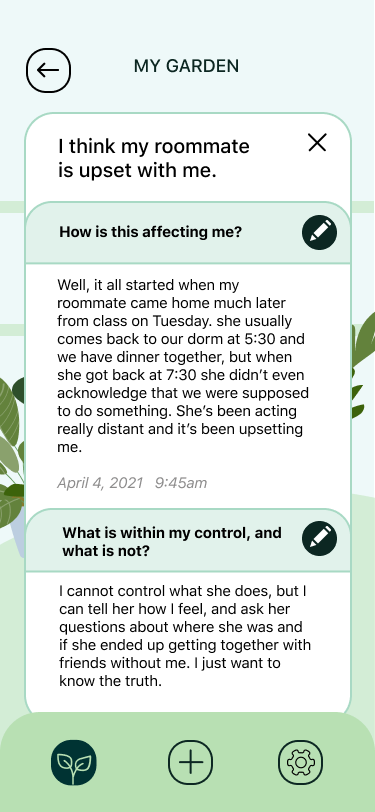 Style Guide
Final Style Guide to come soon!
Validation
Final User Research and Insights to come soon!
Next Steps
Final user testing of color prototype

Engineers to develop mobile app from web app

Go to Market Plan
Future Considerations
Leaving plant unfinished would make it start to wilt

Daily anxiety-reducing quotes

Visiting other people's gardens and gifting them rare plants/accessories

Option for generic journaling questions

More question choices

Earning points based on number of questions answered

Buying new accessories with points

Unlocking different habitats the longer you're involved
What I've learned
I learned how to create a product from concept to development with a product manager and developers, and learned that I love the entire process!

The user flows needed to be finalized before moving on to the color screens, so that the developers could start to build the backend. Since this was going on at the same time as getting user feedback, I had to make the necessary changes first, and learned how to juggle between priorities with the developers.

Moving forward, we have added three additional developers, and our communication and alignment have greatly improved, as we have streamlined our processes.